Saturday, September 21
Apple Symposium Stage
11:45-12:30 - Sid Garza-Hillman & Megan Scott "Vegan Parenting Panel"
Sid Garza-Hillman, podcaster and YouTuber, is the author of Approaching the Natural: A Health Manifesto and Raising Healthy Parents: Small Steps, Less Stress, and a Thriving Family. He graduated from UCLA with a BA in philosophy, and is a public speaker, certified nutritionist, and Small Steps coach. He is the Wellness Programs director at the Stanford Inn Eco-Resort, an ultra runner, and race director of the Mendocino Coast 50K trail ultramarathon. Sid lives on California's Mendocino Coast with his wife and three children, horse, dog, and two cats.
Megan graduated from California State University Long Beach with a degree in Journalism and went on to spend over a decade working as a reporter in radio and television. After starting a family, she transitioned into public relations, marketing, and writing. A constant doer who loves health, nutrition, fitness and food, Megan switched to a vegan lifestyle after learning about the way it benefits health, the environment, and the animals. Her goal in starting Planted Table Meals is show people new to a vegan diet how incredibly delicious it can be and how great you can feel after removing animal products from your diet.
12:40-1:15 - Mirko Buchwald "Vegan Athletes Panel"
Mirko is a 6th degree vegan black belt and a two-time British karate champion. He was raised in a vegetarian household and has been vegan for over 40 years. As a teenager he joined the anti fox hunting group, the Hunt Saboteurs, which led to a lifelong passion for animal activism and direct action. In recent years he has been on many factory farm rescue projects. He teaches at his studio in Haight Ashbury.
1:25-2:15 - Dr. Will Tuttle "Healing Our World: A Deeper Look at Food"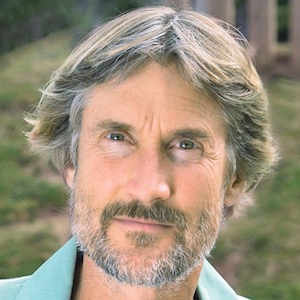 Dr. Will Tuttle, visionary author of the acclaimed best-seller, The World Peace Diet, published in 16 languages, is a recipient of the Courage of Conscience Award and the Empty Cages Prize. He is also the author of several other books on spirituality, intuition, and social justice, as well as the creator of online wellness and advocacy programs. A vegan since 1980 and former Zen monk, he is featured in a number of documentaries and is a frequent radio, television, and online presenter. His Ph.D. is from the University of California, Berkeley.
3:30-4:05 - "The Invisible Vegan Panel"
4-5 - Michael Greger, MD FACLM "HOW NOT TO DIE: The Role of Diet in Preventing, Arresting, and Reversing Our Top 15 Killers"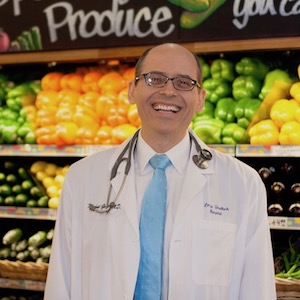 A founding member and Fellow of the American College of Lifestyle Medicine, Michael Greger, MD FACLM, is a physician, New York Times bestselling author, and internationally recognized speaker on nutrition, food safety, and public health issues. He has lectured at the Conference on World Affairs, testified before Congress, and was invited as an expert witness in the defense of Oprah Winfrey in the infamous "meat defamation" trial. In 2017, Dr. Greger was honored with the ACLM Lifestyle Medicine Trailblazer Award. He is a graduate of Cornell University School of Agriculture and Tufts University School of Medicine. His latest book How Not to Die became an instant New York Times Best Seller. He has videos on more than 2,000 health topics freely available at NutritionFacts.org, with new videos and articles uploaded every day. All proceeds he receives from his books, DVDs, and speaking engagements is all donated to charity.
5-5:45 - Nassim Nobari of Seed The Commons & Kim Le of Prime Roots "Future of Farming Panel"
Nassim Nobari co-founded Seed the Commons, a grassroots organization dedicated to wresting food systems from corporate control and building a vegan ethic though programs such as gardening workshops and an online resource center. In 2015, Seed the Commons launched the People's Harvest Forum, an annual conference on radical food politics. Nassim also organized a farmers'contingent at the 2018 Rise for Climate, Jobs, and Justice march in San Francisco.
Kim is the CEO and co-founder of Prime Roots, a company that is dedicated to making delicious meatless and seafoodless products using an all-natural superprotein that is homegrown in Northern California. As a daughter of a chef, life-long foodie, and scientist, Kim is committed to making positive environmental impacts through changing our food system to be more sustainable and equitable for all.
Pear Cooking Stage
12-12:45 - Lisa Books-Williams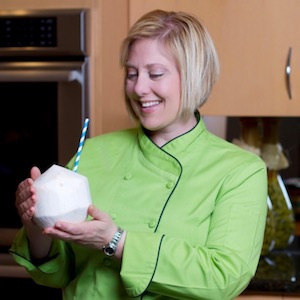 Personal chef, caterer, instructor, restaurant consultant and professional "vegucator," Chef Lisa Books-Williams has been sharing the joys and benefits of plant-based foods since 2005. She was named Vegan Iron Chef (San Francisco, 2013), and is also an award- winning raw foods chef (Best of Raw NYC 2010). Utilizing her MS in healthcare, she developed the culinary portion of the Plant-Based Diet Program for Kaiser Permanente.
2-2:45 - Timaree Hagenburger "Breakfast Revisited - Foodie Bar™ Style"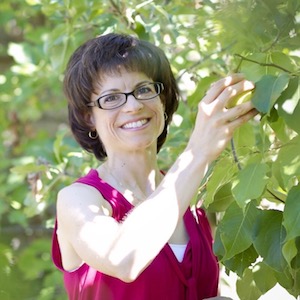 Timaree Hagenburger is a nutrition professor at Cosumnes River College. She also works in corporate wellness, writes a monthly newspaper column, has a regular segment on California Bountiful TV, and runs her own podcast called "Office Hours with The Nutrition Professor." Her first book is titled The Foodie Bar Way: One Meal. Lots of Options. Everyone's Happy.
3-3:40 - Amy Kunde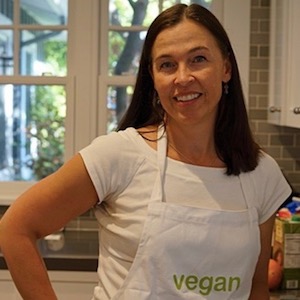 After living with two vegans at home, Amy Kunde wanted to explore how to support them and their dietary preferences. She learned how this lifestyle makes sense in so many ways, and founded Veggie Geeks to help families eat vegan meals while saving time and energy. Now her company home-delivers prepared vegan meals and also caters for groups up to 40.
4-4:45 - Tirza Love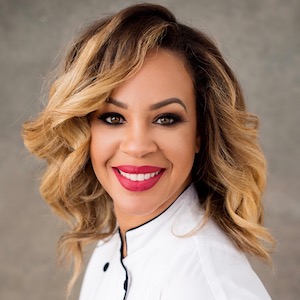 Chef Tirzah Love is a private chef for the Sacramento Kings and a caterer through her company Tirzah Catering LLC. Additionally she teaches cooking classes at Soul Food Farm in Vacaville, CA. She was a featured chef on the Food Network's Guy's Grocery Games (Family Edition). Forever a student, she tirelessly works towards expanding her knowledge base by researching healing foods, reading cookbooks, and creating fresh new recipes for her clients.
Banana Symposium Stage
12-12:50 - Susanne Staehr of The Pilates Workshop SF "Pilates Mat"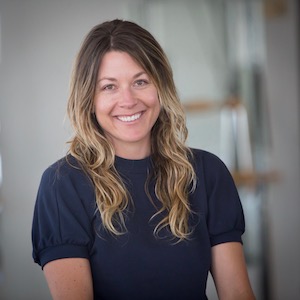 Susanne Staehr has been a certified teacher of the Classical Pilates Method for 20 years and offers energetic and inspiring classes and private instruction. She completed both the Advanced Pilates Teacher Training Program and the Master's Program with the highly esteemed Pilates Center of Boulder, CO and co-runs the Teacher Training Program here in San Francisco. Susanne offers workshops and teaching clinics around the country and abroad.
1-1:45 - Body Chemistry Studio
2:40-3:20 - Hope Bohanec "Vegan Living Made Easy (and Joyful!)"
Hope Bohanec has been active in animal protection and environmental activism for over 25 years and has published the book The Ultimate Betrayal: Is There Happy Meat? She is a nationally recognized leader and speaker in the animal protection movement, and serves as Projects Manager for United Poultry Concerns. Hope is also the Executive Director of Compassionate Living, a California based vegan advocacy organization. She is the primary organizer for the annual Conscious Eating Conference at UC Berkeley, Berkeley Earth Day, and the Sonoma County VegFest.
4:15-5 - Elysabeth Alfano "Interview with Lucas Meachem"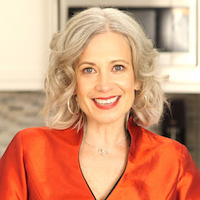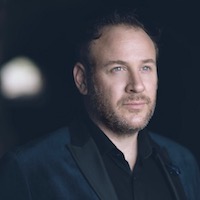 Elysabeth Alfano is a plant-based reporter, radio host, public speaker and content producer, as well as the host of the Awesome Vegans podcast series. She is a plant-based guest expert for iHeart Radio's KFI show, The Fork Report, and WGN Radio. She is also a freelance plant-based reporter for KCRW and an on-air host for WGN Radio. In her on-line series, The Silver-Chic Chef, she creates plant-based recipes. At veg fests around the nation she speaks on the mental, economic, environmental and physical benefits of a plant-based diet.
Grammy® Award winner Lucas Meachem is one of the most sought-after singers of today, captivating audiences with his "earnest appealing baritone" (New York Times). He performs regularly at major opera houses around the world, including the Metropolitan Opera, Vienna Staatsoper, Royal Opera House Covent Garden, Opéra National de Paris and Los Angeles Opera. In concert he has appeared as a soloist in works such as Mahler's Kindertotenlieder with Emmanuel Villaume and Fauré's Requiem with Seiji Ozawa. In 2018 he made his debut at the Salzburg Festival with Penderecki's St Luke's Passion.
5-5:45 - Universal Yoga
Mind/Body Zone
12-12:50 - Wendell Doman "Foot Reflexology for Self-Care"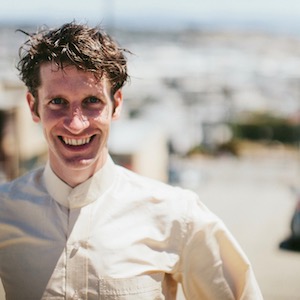 Wendell has been serving the San Francisco Bay Area with holistic healing since 2012. He traveled to Thailand to study Thai Foot Reflexology in 2010. Upon returning, he pursued advanced training in professional massage at the Arizona School of Massage Therapy.
2-2:45 - Mirko Buchwald "Zanshin SF Class and Black Belt Demonstration"
Mirko is a 6th degree vegan black belt and a two-time British karate champion. He was raised in a vegetarian household and has been vegan for over 40 years. As a teenager he joined the anti-fox hunting group, the Hunt Saboteurs, which led to a lifelong passion for animal activism and direct action. In recent years he has been on many factory farm rescue projects. He teaches at his studio in Haight Ashbury.
3-3:50 - Holly Furgason "Blue Sparrow Pilates Mat Class"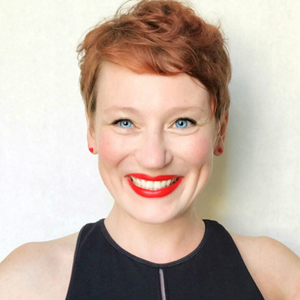 Holly has over 19 years of experience teaching Pilates and is the founder and CEO of the Merrithew™ Licensed Training Center in San Francisco, Blue Sparrow Pilates. Offering a wealth of experience in working with diverse clientele from professional athletes to those in rehabilitation, Holly publishes the teaching blog The Hatchery and has contributed to Pilates Style Magazine, PilatesIntel, Pilates-Pro, PilatesPal, and Profitable Pilates. Additionally, she is a Lead Instructor Trainer for Merrithew Fascial Movement, CORE™ and Total Barre®. She holds a Bachelor of Fine Arts degree in Dance from the University of Michigan, and a Masters of Fine Arts in Choreography and Performance from Mills College in Oakland.
3-3:45 - Lisa Wong, Center for Healing by Design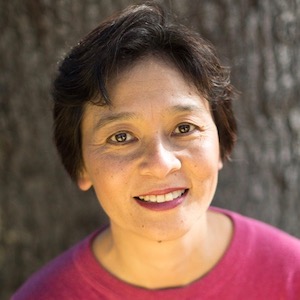 Lisa K.Y. Wong is the world's first vegan acupuncturist to climb Mt Kilimanjaro, and is the founder of Center for Healing By Design. She uses the most organic and non-invasive ways of diagnosing and treating health challenges. Lisa is also the co-founder of the Vegan Entrepreneurs Silicon Valley and Vegan Entrepreneurs San Francisco, the first two US chapters of the global Vegan Entrepreneurs Network.
4-4:50 - Swami Arivananda "Integral Yoga"
Swami Arivananda has been teaching Integral Yoga practices since 2008. Previously, she enjoyed an eclectic career as a professional dancer, teacher and choreographer for over 30 years. She also owned and operated a performing arts center and ballet company. In addition, she and her partner of 20 years developed a software company focusing on interactive multimedia and training programs. Arivananda also served the Living Yoga Trainees in Yogaville, the main ashram in Buckingham VA.
See www.integralyogasf.org and contact Swami Arivananda at This email address is being protected from spambots. You need JavaScript enabled to view it.
4-4:50 - James Brown "Vedic Meditation"
Kumquat Kids' Area