Recipes from Jill Nussinow's Chef Demo at the 2017 CAVFF
Did you catch Chef Jill Nussinow's enticing ​and ever-nutritious quinoa, lentil, and sauce recipes at our Chef Demo stage this year? The recipes were so popular, we've decided to share them here! Check out Jill's 
website
 and her numerous 
cookbooks
 for even more inspiration.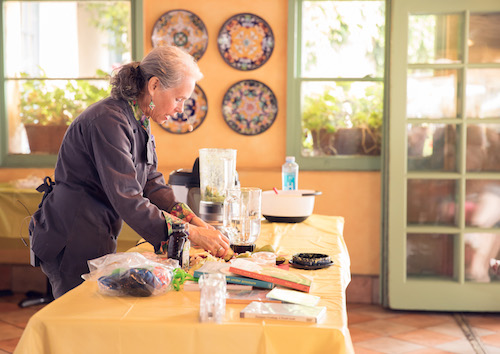 Tomatillo Cilantro Avocado Sauce
Makes about 3/4 cup
This dressing is best when avocadoes are ripe and abundant, which they often are when tomatillos are in season in the summer and fall. Tomatillos are an underutilized vegetable and have a wonderfully tart taste and a crunchy texture. While this dressing works well on green salad, it also adds another dimension to any lean protein such as chicken or tofu, or turns leftover grains or beans into a delicious salad.
1 clove garlic
1/4 cup cilantro
1/2 cup roughly chopped tomatillos (about 2-3 med/large)
1-2 tablespoons lime juice, from 1 lime
1 medium avocado, in large pieces
1/4 teaspoon salt
Agave syrup or other sweetener, 1-2 teaspoons, if needed
Add garlic, cilantro and tomatillos to a small food processor. Pulse until garlic, cilantro and tomatillo are well chopped. Add the lime juice, avocado and salt. Process until almost smooth. Taste and add agave syrup, if necessary, to balance flavors.
Quick Quinoa Pilaf
Serves 4 – 6
Quinoa makes a great base for all kinds of flavorings and vegetable additions. You can vary them according to the season. The best part is that quinoa tastes the same or better the next day.
1/4 cup minced onion
1 cup quinoa, rinsed and drained
1 3/4 cup water or broth
1/4 teaspoon salt, to taste
Freshly ground pepper, to taste
2 green onions, sliced for garnish
Heat a medium saucepan over medium heat. Add the quinoa and cook a minute or two, stirring often, until the quinoa is toasted. Add the water or broth and bring to a boil. Reduce heat to simmer. Cover and simmer for 12 minutes. Let sit for 5 minutes.
Add the salt and pepper. Top with green onions.
Or pressure cook 1 cup quinoa, 1 1/4 cups liquid for 5 minutes with natural release.
To cook other vegetables at the same time, put in parchment on top of the quinoa.
Pressure Cooked Lentils
Makes about 3 cups
Lentils don't need presoaking and work well to cook quinoa at the same time.
6 minutes at high pressure; natural release
1/2 cup diced onion or leek
1 cup French green lentils
1 1/2 cups water
Dry saute the onions or leek. Add the spices (below). Add the water and scraper the bottom of the cooker. Add the lentils. Lock the lid on the cooker. Bring to high pressure (and set the timer). Let the pressure come down naturally.
When cooking this, I will add 1 teaspoon cumin, 1/2 teaspoon coriander and 1/2 teaspoon chili powder or paprika. (if you like smoky flavors, use smoked paprika)
To finish up the salad, add:
1 cup English or Armenian cucumber, peeled and diced
1 cup diced red, yellow or orange pepper
1 cup diced tomato
2 to 3 tablespoons chopped cilantro
Salt and Pepper, to taste
Combine cooked lentils and quinoa with the vegetables (or any seasonal vegetables) and add the dressing. Serve warm, room temperature or cold.